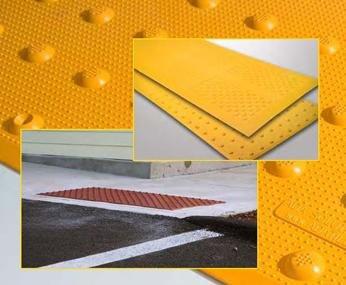 Composite GLUE DOWN Detectable Warning Panel ADA Solutions
Call 888-397-0267 
$15.95 Per Sq. Ft. Compared to Others at $28.00 & Up
This Composite Surface Applied Detectable Warning Panel meets or exceeds all ADA Regulations including the 2.35 Dome Spacing.
This Panel is for use in retro fit application
Offered by DWP
s, or after new concrete has cured. Easy to install & Replace
The perimeter has beveled edges on all sides and is secured with adhesive & anchors that are provided with the panels
Installation is a Breeze with predrilled holes prepared in advance for even FASTER installation
These panels are available in 5 sizes as well as Radius, in 9 colors
To request more information about our products and services, call for immediate assistance 401-473-5584 or mail us at info@dwpnow.com. 
7 Year MFG Warranty