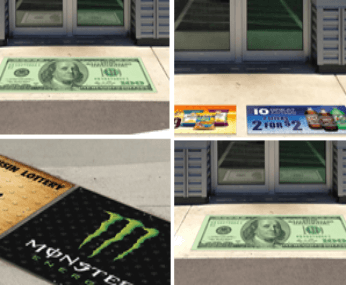 Composite Graphic Logo'd WET SET Replaceable Detectable Warning
Call 401-473-5584
$17.95 Per Sq. Ft. Compared to Others at $19.95 & Up
This Logo'd Detectable Warning Panel meets or exceeds all ADA Regulations including a 2.35 dome spacing. 
Installation is a Breeze. With preinstalled anchors for this Cast in place panel, installation is FAST, and Replacement even FASTER!
It is also available in Surface applied and in other materials by request.
This Panel is a game changer, as it turns an expense into a Revenue Generator

Ground placed advertising wherever detectable warnings are required: Retail, Restaurants, Stadiums, Train Station Edges, Curb Ramps

One of the most Co-Efficient forms of advertising available today.

Photo quality, as well as standard 4 Color artwork available. Available in 5 sizes
To request more information about our products and services, call for immediate assistance 401-473-5584 or mail us at info@dwpnow.com..